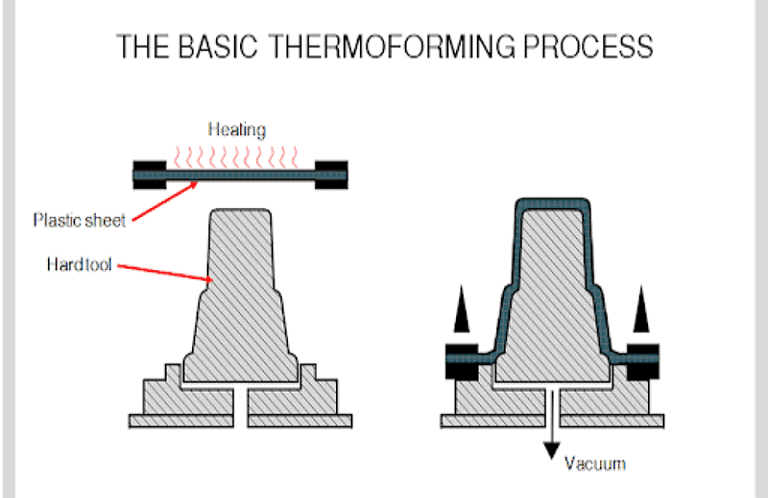 A Complete Guide to Thermoforming
Through this blog, we are going to answer all your queries that concern thermoforming machines. Thermoforming is the process of heating a plastic sheet to a certain temperature that it gets heated enough to form a mold or shape. This process ensures that the product is converted into a useful item.When the plastic sheet is subjected to high temperature, it gets easier to mold or even stretch into a particular shape. The best part of thermoforming is that the process can be carried through both plastics and polycarbonate sheet materials. 
Materials Used for Thermoforming
This is a process by which plastic materials are molded into different shapes just to make them usable. Different types plastic is used to carry out thermoforming process such as: 
HIPS Plastic
This type of plastic is used to form rigid plastics. This plastic is transparent and rigid; therefore, it is used for different uses like for food drink applications.Not just this, manufacturers use this plastic to make disposable cutlery, containers, and bottles. This plastic is easily created that too at a reduced cost.  
PVC Plastic
PVC is Polyvinyl Chloride. It is one of the most common plastics which has a sturdy structure. The creation process is little different and it involves suspension polymerization. Because it is a hard structure, it gets difficult for the plastic to withstand impacts and extreme pressure. 
This material is mostly preferred by thermoforming machines manufacturing companies because of the low production cost. This type of plastic is used for the following applications such as sewage pipes, electric cables, faux leather, floor, clothing, and commercial signage.  
HDPE Plastics 
HDPE means high-density polyethylene. It is usually a more robust thermoplastic because it comprises of petroleum. The best thing is that its strength to density ratio is quite exceptional. This plastic is used to make plastic bags, bottles, water pipes, and installation cables.  
ABS Plastics 
This is another type of plastic that comprises acrylonitrile, butadiene, and styrene. This plastic has tough resilience to heat; therefore, it can handle temperatures that may range from -4 to 176 F. Not just this, you can also mold this plastic at a high temperature. 
ABS plastic is used for the manufacturing of pipes, protective headgear, musical instruments, toys, tattoo inks, golf club heads, and recorders. 
PET Plastics 
PET plastics also called polyethylene terephthalate. It is useful for the production of bottles and synthetic fibers. This plastic is more resistant but only after molding the product into a desired shape. The best part of this plastic is that it can also be recycled for other uses.  
PETG Plastic 
It means polyethylene terephthalate glycol. PETG material is a variation of pet plastic. Many vacuum machine manufacturers use this plastic to construct trays and blister packaging. 
Thermoforming Polycarbonate Sheet 
This is the process of transforming the structure and the shape of the sheet through different methods. This process is commonly used. It involves the following steps such as:  
 First forcing the heated thermoplastic sheet into a mold for one to attain a required structure.

 

    Then the thermoplastic will cool down.

 
The process of thermoforming a polycarbonate involves heating the polycarbonate sheet to a specific temperature – below the melting point.  
The heat softens the materials until it stretches to the particular contours of the mold. When the plastic comes into contact with mold, it automatically takes its shape. The rest of the part is left only to trim the mold so that it becomes usable.  
Such a process will be economical especially when processing large items with particular specifications. 
Benefits of Thermoforming 
There are several advantages of thermoforming process. Those are listed as below: 
This process is the best when you want to produce large parts because there is no hassle and large pieces can be made comfortably.

 

The process also increases low tooling costs, which later on reduces the value of the product.

 
This process is efficient in producing high-quality products.

 

The process is adaptable, flexible to several custom designs.

 

There are a lot of options in making pertains and finishing.

 

This process is not just limited to the use of one type of plastic, but many different plastics can be used.

 
Drawbacks of Thermoforming 
Thorough, continuous heating is required.

 

Because of excess heating, some plastic sheets may break. 

 

It is challenging to develop molds with particular shapes and bends.

 
Things to Consider while Thermoforming 
Proper decision-making is the key to successfully making the end-product look better. For better results, following elements are taken into observation: 
Temperature 
Temperature plays an important role in the overall success of the final product. Right temperature that is the optimum temperature is required to get desired mold. Or we can say that the temperature will dictate the entire thermoforming process. Different types of plastics will respond differently to heat temperatures. It would be the best if you understand the proper heat requirement for your vinyl. 
Thermoforming Machines and its Types 
There are different types of thermoforming machines. You will have to select the type based on your needs. Machines come in different designs such as rotary, shuttle, and inline. You will have to see which machine fits your needs.  
The ideal machine will be the one that fits the application that you want to produce. Just make sure the machine is efficient in terms of speed, especially if you want to produce a mass production. 
The Design  
Design plays an important role in the formation of complex molds. The user must know the right procedure of arriving at the right frame. If the final product involves complex parts, then you must take a careful approach. 
A good machine should be able to provide the right temperature, accurate process, and technique. Also, the device should accommodate the size of the sheet and should also facilitate the molding process. 
Thermoforming System Procedure 
You must follow a particular process to get the desired product. Following the procedure according to the steps is important to get the final product. For this, understanding the process is important. 
Skills 
Right skills and practice are required to operate the machines. Also, you should understand the properties of different raw materials that are to be used to get the final product.The operator should also understand the implementation of the correct parameters. Also, the operator should be creative to include various aspects that will make the overall process a success. 
Applications of Thermoforming 
Today, several industries use a thermoforming process to manufacture different applications. The most widely used applications are as follows: 
Automotive Manufacturing Industry 
Vehicles are made using thermoforming process. Precisely, polycarbonate materials are used to make vehicle parts such as dashboards, interior door panels, air ducts, bumpers, engine bay panels, and so on. 
Aviation  
The aerospace and aviation industries are the most common users of polycarbonate materials. It should not be a surprise when we inform you that some parts of the aircraft come for thermoformed plastics such as window shades. Other parts that use this material are overhead luggage bins, ducting interior paneling, seating parts, and gallery components. 
Medical Industry 
The medical industry is another beneficiary. Medical equipment that comes from such materials are X-ray machines, CT and MRI scans, other medical electronics, sterile packaging, trays and bins, and hospital bed equipment. 
Office Machines 
 The most common tools that use such documents are computer enclosures, fax machine enclosures, office furniture, and bezels. 
Building and Construction 
Many building and construction materials also come from thermoforming carbonate. The most common applications in this industry are machinery covers, tools cases, skylights, and equipment enclosures.

 
Points to Consider When Buying a Thermoforming Machine 
There are different types of thermoforming machines in the market. How would you choose the right one? Look into the following factors such as: 
Usability 
See if the machine is user-friendly. It will be perfect for you if you go for some training. By doing so, you will be able to operate the device without any struggle. 
Safety Features 
A good machine will have proper safety features to avoid any unexpected accidents.If you do not know, let me tell you that the whole thermoforming process exposes you to many risks. So, the machine should have a suitable kit to mitigate safety. The safety control unit should also be easily accessible for the quick access. Such measures will help in averting any such incidents.  
Control Units 
Since technology is increasing, it will be better to purchase the latest machine model. New models will have more natural control units. The unit control is an important feature which is used to determine various thermoforming processes. Control units also make the operations smoother. 
Size 
Another important factor is the size of the machine. You should consider size as important aspect of the selection process.Different sizes will meet different needs of the user. Some may prefer larger sizes for mass productions or some might look for smaller sizes. If the budget cannot allow you to acquire a large size, then you can settle for the moderate one. 
Warranty Policies 
Always look for warranty policies. Some machines have a warranty only in certain parts. It is also important to know that some machine parts also have a limited lifetime warranty. 
Conclusion 
Thermoforming is not something new. It is an old concept that causes several plastic materials to gain particular shapes. However, you would require proper knowledge to execute the entire process.Also, you will have to use the right plastic material. The thermoformed materials are common in many industries. In the medical field, you will easily come across the testing equipment which utilizes these materials.